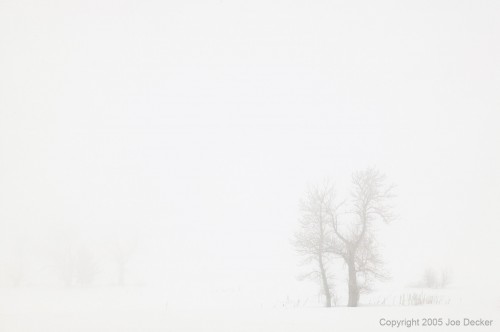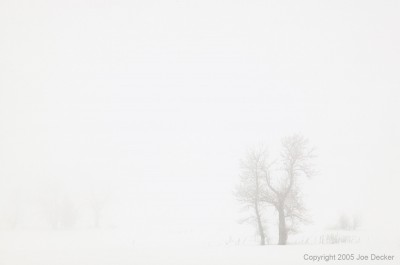 If you like this article, you can now get the book! Joe has expanded the "Tuesday Composition" series into an inspiring new ebook on composition, especially for nature photography. Check it out: The Tuesday Composition.
Last week we discussed areas of high contrast, this week we're going to turn around and say a few words about low contrast areas and how they contribute in a composition.
At least one of these effects shouldn't be too much of a surprise if you read last week's column. If our eye tends to gravitate over time towards the high-contrast parts of a composition, then it more or less equally gravitates away from the low-contrast areas of the image. I won't dwell on this aspect of it, if you want a nice, simple example start with the tree at the head of last week's column and notice that the valley walls don't pull your eye the way the tree does.
But as much as that's true in last week's tree, it is even more true for Tree Ballet. Save for three small areas of the image (the bare trees and a couple patches of dead grasses) Tree Ballet has no real detail or contrast whatsoever. Whereas the small amount of detail in the valley walls in Morning by the Merced will occasionally pull your eye in to look at what detail is present, the complete lack of sharp detail in Tree Ballet does not. We say that most of this image consists of "negative space". "Negative space" is the art term for space around the subject of an image. The large area of this image devoted to negative space is important to this image, it emphasizes the cold, isolating fog. (more…)